---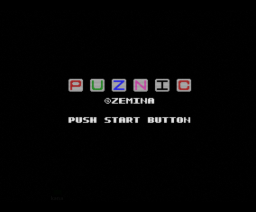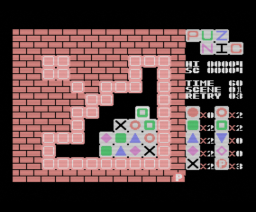 Original title

Puznic

Also known as

Puzzle

Developed by

Year

1990

System
Rating

(

15 votes

)

Sound

PSG

Kind

Game

Max Players

1

Input Devices Supported

Keyboard

Genre

Puzzle


Licence

Commercial
Note

Contains music ripped from Konami's Q'Bert.

From http://www.hardcoregaming101.net/korea/part1/company-zemina.htm:

Taito's Puzznic got officially ported to about a dozen platforms, but not the MSX, so Zemina produced relief one more time. For some reason the title on the box differs with the ingame one, where it's origin is made clearer as Puznic. The nudies that got deleted from any other version than the Japanese arcade board are missing here too. As in the original, levels are cleared by dragging stones vertically, until two or more of equal color meet and disappear.

The MSX game contains a completely new set of 48 levels and some new gameplay elements. Stones are moved in half steps here, which makes for interesting new situations. There is a special item that can make any block disappear alone. This might fool players into thinking they can use it to correct some mistakes, but its use is limited to three, and there's exactly three stones in the game that are impossible to delete without it. After the last stage, the game starts from the beginning, so the game ultimately ends when the first stage that requires to delete a single stone is entered for the second time.
Added on

22-11-2004

Last updated on

05-11-2013