---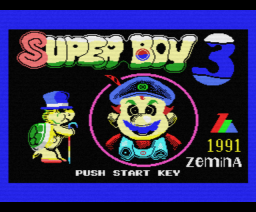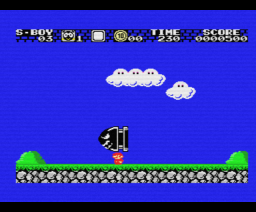 Original title

수퍼보이 III

Title translations

Super Boy 3 (English)

Developed by

Year

1991

System
Rating

(

9 votes

)

Sound

PSG

Kind

Game

Max Players

1

Max Simultaneous

1

Input Devices Supported

Keyboard, Joystick

Genre

Platform


Licence

Commercial
Note

From http://www.hardcoregaming101.net/korea/part1/company-zemina.htm:

The third part in Zemina's only long-running series. One would expect half of Super Mario Bros 3 cloned, but only Mario's sprite and few others are ripped from that game. Everything else is redrawn, though mostly stolen from Super Mario World. This makes for some awkward elements, like diagonal pipes realized as stairs.

The game consists of 16 levels, which equals the number in both previous Super Boy games, but this time, they're entirely new. At the end of every level awaits a Hammer Brother, the final boss is the fat one from SMB3. Mario's(?) walking speed is extraordinarily slow, but even running he's not really fast. Extras are limited to those that are in since the first game. Quite everything looks like how the next Super Mario game would have turned out if Miyamoto wouldn't have had any more ideas. Seeing how almost everything in the game is newly pixeled, one cannot help but wonder why they didn't just create their own characters to begin with. Was the developer really so unimaginative? Other games by Zemina like Cyborg Z suggest differently.

In other news, the hero of the series finally gets to rescue his first princess in the short ending.
Added on

16-06-2006

Last updated on

02-08-2011