---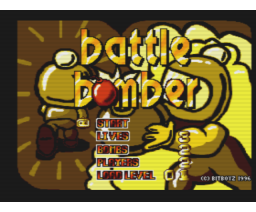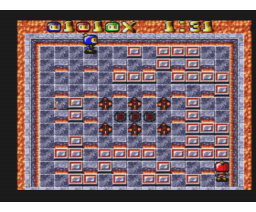 Original title

Battle Bomber

Developed by

Year

1996

System
Rating

Sound

Moonsound

Kind

Game

Max Players

3

Max Simultaneous

3

Input Devices Supported

Keyboard, Joystick

Language

English


Genre

Action


Licence

Pd/freeware

Uses V9990

Yes
Note

Manual:

Now..... How does Battle Bomber work?

Wel it's simple. You controll a bomberman. You can play with two or three
players. And the aim of the game is to kill your fellow opponents.

To do this you can lay bombs. The number of bombs you can lay can be
controlled from the starting screen or during a game you can obtain a
bomb option which increases the number of bombs.

After a while a bomb explodes. The reach of the other explosions can
be broadened by obtaining a flame. This way you can set the whole
screen alight!

Above the screen the computer keeps score. When you are the only won
(I mean one offcourse (joke!)) left you score is incremented.
When you've reached a certain amount, you've won the game.
Things such as this amount can be selected in the intro screen by
moving up and down and to left and right.

When all players die simultaniously we declare a draw!

In the intro screen you can load the extra levels by setting the
bomberhead on levels and going to left and right. When you see
a level you want to play press space or firebutton. The level will then
be loaded.

To start the game go to start and press fire or space.
Added on

30-12-2013

Last updated on

30-12-2013