---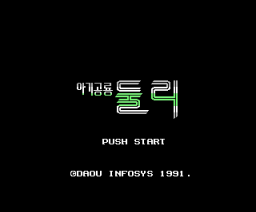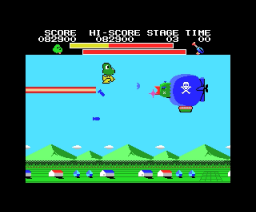 Original title

아기공룡 둘리

Title translations

Baby Dinosaur Dooly (English)

Also known as

Agigongnyong Dooly

Developed by

Year

1991

System
Rating

(

8 votes

)

Sound

PSG

Kind

Game

Max Players

1

Input Devices Supported

Keyboard

Genre

Action
Shoot-'em-up | Horizontal


Licence

Commercial
Note

From: http://www.hardcoregaming101.net/korea/part1/company-daou.htm

This is the second of many games based on Korea's most popular animation license, Agi Gongryong Dooly. Whoever is puzzled upon looking at the screenshots, whether this is a shooter or a platformer, hit the nail right on the head: It is a mix of both, though with more weight on the shooter bit. The levels autoscroll from left to right, and Dooly can move in all four directions, but one of the two fire buttons is dedicated to a jump, which is needed for some obstacles.

Every stage loops indefinitely until Dooly finds three keys. Two are "donated" by defeated enemies, but the last one has to be won in a rock-paper-scissors match against a boy (who is also a character in the animated series). Did the first game by Aproman send the baby dinosaur into space, this time he has to travel through time. In every period he gets a new outfit and weapon, only towards the end appear power ups that enable him to switch weapons in between.

Agi Gongnyong Dooly was one of two games by Daou/Open that are known to have been localized for Innovation's US release, which never happened. Despite Innovation's general inability to get stuff released, one cannot help but think that the developers stuffing rip-offs of copyrighted music into the localized version had something to do with it. Nothing better than killing tennis balls to the sound of Smeels Like Teen Spirit. Other songs include Divine Thing by Soup Dragons, Two Princes by Spin Doctor and Everything About You by Ugly Kid Joe. Other than the change in music, a few characters from the series that appear as rotating shields around Dooly, have been replaced with dinosaurs, and of course the Korean screen text has been translated into English. It appears that the "Americanized" version has been sold in Korea, afterwards.

Of the MSX version only very few screenshots from the box and magazines are known, but for once the Master System version hasn't been a mere conversion, and it appears quite different.
Added on

21-11-2006

Last updated on

02-12-2016