---
Konami (ROM)
|
Konami (ROM)
|
Konami (ROM)
|
Konami (The Links Network download)
|
Philips (ROM)
|
Sony (ROM)
|
Sharp-Epcom (ROM)
|
MPO Video Ltda. (ROM)
|
5 Compilations
---
Covers
---
Note

Initially released as the 3rd part in the Educational "I Love" series. In this case "I Love Math" (I love 算数).
Covers
---
Note

Japanese re-release, without the "I Love..." text.
Covers
---
---
Note

Same as the original Konami release. Seems it did not even have a Philips sticker on it.
---
Note

Distributed by Sony, otherwise identical (Sony product code sticker on the back of the box)
Covers
---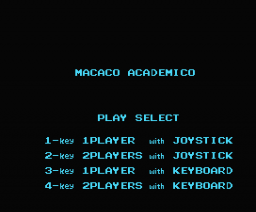 Note

Unlicensed distribution with changed title and Konami and copyright removed.
Covers
---
Covers
---
Compilations
Released on the following compilations:
-
Super Game World 126
-
Super World 30
-
Super Game World 64
-
MSX 90 Total
-
Nova Games #11