---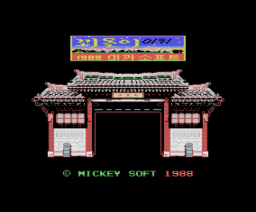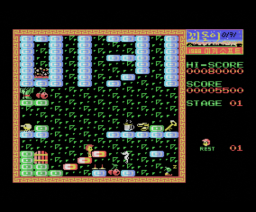 Original title

꾀돌이

Title translations

Koedoli (English)

Also known as

Kkoedori

Developed by

Year

1988

System
Rating

Sound

PSG

Kind

Game

Max Players

1

Input Devices Supported

Joystick

Genre

Puzzle
Platform


Licence

Commercial
Note

From http://www.hardcoregaming101.net/korea/part1/company-aproman.htm:

This puzzle platformer by Mickey Soft is easily the best Korean MSX1 game. Similar to Tecmo's Solomon's Key, levels are conquered by building and deleting blocks to find the key that opens the door to the next level. But here, blocks can only be built diagonally upwards to form stairs, and deleted blocks are turned into traps for the moving enemies. There are other extras, like an armor that protects from projectiles. Most of the game is pretty tricky and well designed, only a handful of levels are build purely to waste the player's time.

Kkoedori is not without flaws, though. Every few levels a password is shown, but a function to type them in is nowhere to be found. The harsh extra life limit with no continues makes it very hard to complete the game in a single run. The team also has to be criticized for stealing the background music. The tune heard during a level is the Korean title music to the 1980's anime series Magical Princess Minky Momo, while the ending is taken from Galaxy Express 999. Nonetheless a great game. Too bad Mickey Soft never resurfaced with new software.
Added on

10-07-2009

Last updated on

29-12-2017