---
Philips (ROM)
|
Philips (ROM)
|
---
Note

This is a complete modem with terminal (MT-TERM) and viditel software included and RS-232 hardware, of course.
Covers
---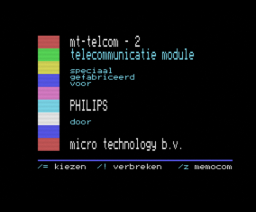 Note

This is the successor of the MT-Telcom/Telcom (1). It is not listed explicitly in Philips catalogs, we assume it was sold later instead of the Telcom (1). The box and software say "Especially made for Philips", so we assume it's a Philips exclusive product.

Differences with the Telcom 1:
- switch to enable/disable built in software ROM
- built in Xmodem protocol
- front hatch contains a connector to connect extra equipment like: different ROM software, multiple RS-232C, alarm-equipment
- has a 'datel' switch, which enables you modem and normal telephone usage without disconnecting any of those.
Covers