---
Erbe Software (Tape)
|
Go! (Tape)
|
---
Covers
---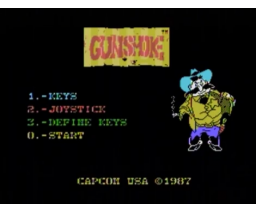 Note

This is the UK release of the game. The cover doesn't mention Topo Soft at all, only CAPCOM, which was probably a much more interesting name in the UK than Topo Soft.

For this release the title screen was changed to actually show Gunsmoke and have English texts and "CAPCOM USA" on the screen.

The rest of the game seems to be identical.
Covers