---
ASCII Corporation (3× 3.5" Double-sided disk, ROM)
|
ASCII Corporation (3× 3.5" Double-sided disk, ROM)
|
Panasonic (ROM, 3.5" Double-sided disk)
|
---
Note

Ver 1.00. The Execution disk is for the practical use, the Storage disk is the backup, and the Overview disk displays the demonstration/manual.
Mouse is disabled by default. To enable, push STOP to open the desk accessory menu, choose System Setting at the top left using cursor keys then push RETURN. The System Setting dialogue opens so move the pointer to the Mouse radio button at the bottom left using GRAPH and cursor keys, push GRAPH+SELECT to leftclick, then push RETURN.
This version can be installed to a hard disk and lacks screensaver.
Covers
---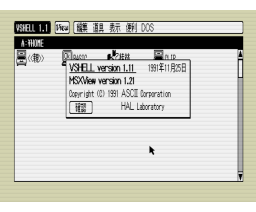 Note

Mouse is enabled by default.
Covers
---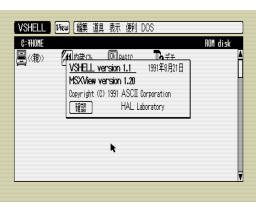 Note

Ver 1.20 integrated into Panasonic FS-A1GT. This version lacks the Overview disk. The kanji font rom incorporated in FS-A1GT is not equal to the other versions but it lacks 12x12 pixels JIS level 2 kanji fonts, and is accessed via Panasonic mapper.
Mouse is enabled by default.
Covers