---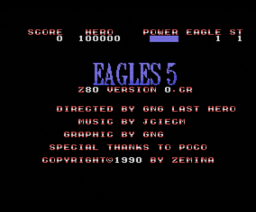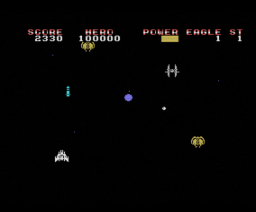 Original title

Doksuri 5 Hyeongje

Title translations

Eagles 5 (English)

Also known as

독수리5형제

Developed by

Year

1990

System
Rating

Sound

PSG

Kind

Game

Max Players

1

Input Devices Supported

Keyboard, Joystick

Genre

Shoot-'em-up | Vertical


Licence

Commercial
Note

From http://www.hardcoregaming101.net/korea/part1/company-zemina.htm:

Around 1990 developers were getting the hang of MSX programming it seems, and some very solid games were created that year. Eagles 5 won't win any beauty contests, but it makes great use of the machine's capabilities. There's alway going on a lot on the screen, everything moves smoothly, and while there are occasional slowdowns and flickerings, both are kept to a minimum. There's also a ton of different enemy types, from mechanic to biologic to geometric ones. The unchanging space background with the planet in the middle gets a bit boring, though.

Not only does the game know what it can demand from the MSX1, but also what to expect from the player. The game is hard, but not inhumanly so. Enemies don't spare any bullets and attack in whole squadrons at a time, but the player's ship is protected by a rechargeable shield, and with the right amount of speed upgrades, dodging is a piece of cake. The bosses are almost too easy, and despite their individual sprites, they all act more or less the same.

The games is named after the Korean title of the anime series Gatchaman and uses the show's characters for the title art, but ingame it refers to the five levels the ship's weapons can be upgraded in. Any hit downgrades the weapon systems, only in the fifth and last stage they're locked in until the ship is destroyed. As with The Three Dragon Story, losing just once immediately ends the game.

The game is credited to the cryptic abbreviation GNG, which doesn't seem to have been decoded, yet. Reportedly, the game has also been developed at team MBitM, though.
Added on

28-01-2007

Last updated on

17-11-2017