---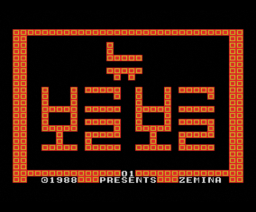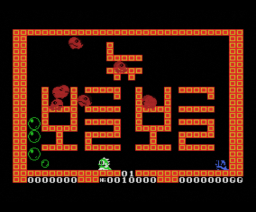 Original title

뉴 보글보글

Title translations

New Bubble Bobble (English)

Also known as

New Boggle Boggle

Developed by

Year

1988

System
Rating

(

3 votes

)

Sound

PSG

Kind

Game

Max Players

2

Max Simultaneous

2

Input Devices Supported

Keyboard, Joystick

Genre

Platform


Licence

Commercial
Note

From http://www.hardcoregaming101.net/korea/part1/company-zemina.htm:

Now Taito's Bobble Bobble was actually officially ported to the MSX, but because of it's sheer popularity in Korea Zemina tried it with their own version. New Boggle Boggle is a remix with completely new levels, but the execution is all kinds of bad. The dragons get constantly stuck in the environment, enemy behaviour is broken and enemies get free from the bubbles much too fast. There's also a lot of missing features, like the EXTEND letters and various special items. Worst of all, the music sounds like an elementary school student tried to imitate the melody on a carillon.

New Boggle Boggle hasn't been developed by Zemina's internal developers, but rather a team called MBitM, which should carry on to contribute games published under the Zemina label, until they turned into the PC developer Namu Software.

Added on

11-11-2006

Last updated on

21-03-2017