---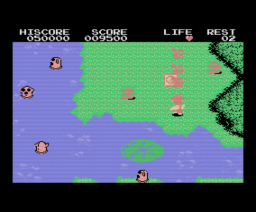 Original title

원시인

Title translations

Won-Si-In (English)

Also known as

The Primitive Man

Developed by

Year

1991

System
Rating

(

1 vote

)

Sound

PSG

Kind

Game

Genre

Shoot-'em-up (All)


Licence

Commercial
Note

MSX1 version of "The New Type" (新人類) for NES.

From http://www.hardcoregaming101.net/korea/part1/company-zemina.htm:

Wonsiin is a port of the Famicom game Shin Jinrui: The New Type (Adventures of Dino Riki in the US), which apparently gave Zemina opportunity to exploit their vertical shmup code even once more. Typically, the scrolling is choppy here, too. There have been several other small compromises, but overall Wonsiin is a decent port of the Knightmare inspired game. Especially some elements that one would think would have been sacrificed on the MSX, most impressively the attacking dinosaur skeletons, are intact. Still, Wonsiin ends after three stages, leaving out the final challenges. Those are based on the first three tilesets, so they probably wouldn't have used up much space, so maybe Zemina thought them unnecessary.

Like in the NES game, the caveman shoots his way through the autoscrolling vertical stage, upgrading his weapon from spears to stone axes, boomerangs and a flame thrower(!) and has to jump over the odd obstacle to finally reach the bosses. For some reason, those are switched around between stages, and also got their patterns improved a bit. The final boss looks suspiciously similar to Bowser. The game is very tough, but not The Three Dragon Story tough.

In early 1992, Zemina announced the sequel Wonsiin 2, which didn't get finished before the development staff left to form Open, and was most likely realized as Wonder Kid.
Added on

11-11-2006

Last updated on

02-02-2017