---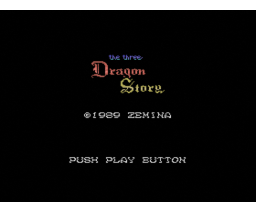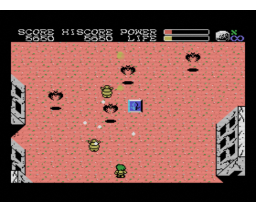 Original title

용의 전설

Title translations

The Three Dragon Story (English)

Developed by

Year

1989

System
Rating

(

8 votes

)

Sound

PSG

Kind

Game

Max Players

1

Input Devices Supported

Keyboard, Joystick

Genre

Shoot-'em-up | Vertical


Licence

Commercial
Note

From http://www.hardcoregaming101.net/korea/part1/company-zemina.htm:

At first look this seems to be a clone of Konami's Knightmare, but it is vastly improved upon on every aspect but one. Damn, this could have been such an awesome game for the MSX.

The graphics are all new, though some still betray their inspiration, like the hero's helmet, that is a powerup here. There's ten weapons and various other items to be found in initially invisible boxes, that need to be discovered by shooting at them. Multiple weapons can be carried at the same time and swapped through when needed.

There's various types of enemies, cool looking bosses and stages. Other than in Knightmare, the player gets a health bar that makes him resistent to about four or five hits. There's also a power bar that can be upgraded to increase the weapons' power, but every enemy hit draws from it much more rapidly than from the life bar.

So what's the catch? This game is beyond hard. It puts Nintendo Hard, Retro Hard, and any other thinkable kind of hard to deep shame. Anyone who can ever beat even the first boss without using cheats may be legitimately called a god. Bullet hell years before the term was coined, the enemy takes about a hundred hits, grows fast as the Roadrunner towards the end, and every single failed attempt leads back to the very beginning, such a thing as extra lives or continues don't exist in this game.

Too bad about what could have been a rather awesome shmup. Another one developed by the duo Lee Kyuhwan / Lee Sanghun. Makes one wonder what has driven them to this kind of "balancing".

The title artwork might be familiar to long time players of Dungeons&Dragons, as it is ripped straight from the Basic Rules book (12th to 14th print).
Added on

11-11-2006

Last updated on

25-10-2016