---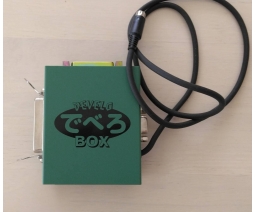 Manufacturer

Type

Other
Note

A simple development kit "Debero Box" that allows cross-development of PC engines with MSX and PC-9801. The box could be connected to an MSX with the printer of joystick port.

The box was mail ordered only for 10.000 yen in 1995 and was released on Jan 23 1996. It came with 2 cables (printer and joystick) and the Debero Starter Kit Assembler Edition (+CD and floppy).

Later they also published an other book Debero Starter Kit BASIC Edition (+ CD and floppy) and a magazine (DEVELO). The Sega Saturn environment called BASIC for Sega Saturn was announced for Mar 1997 but is not confirmed to have been released.
Details
Mentioned in
Groups