---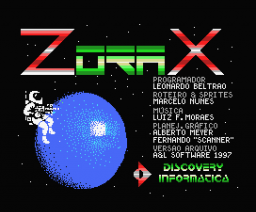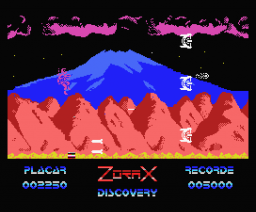 Original title

Zorax

Developed by

Year

1990

System
Rating

(

2 votes

)

Sound

PSG

Input Devices Supported

Keyboard, Joystick

Genre

Action
Shoot-'em-up | Horizontal

Note

See http://cosmiceffect.com.br/2011/01/20/um-encontro-inusitado/ for a review.

Here's the translation of the advertisement (by Slotman):

"Prepare your emotions! Just arrived: ZORAX - The first national action game for MSX"
"Finally an action game totally developed in Brazil! Programmed with the most modern techniques, including PARALLAX SCROLL, this game will be quickly incorporated into your favorite programs library. You're a fearless space warrior that should conquer Planet Zorax, freeing it from a terrible curse. See what expects you:

Five space stages and five planetary ones
Several different enemies
Involving level monsters
Parallax Scroll
Continuous action
Detailed and colorful graphics
HI-Score saved on disk
Original music by Luiz F.Moraes
Excellent playability

Get your copy right away. You won't regret it.

Authors: Leonardo Beltrão, Marcelo Nunes, Luiz F.Moraes, Alberto "Meyer" and Fernando "Scanner". 5 1/4 and 3 1/2. Price: Cr$ 2.640,00

100% NATIONAL PRODUCT
DON'T BE FOOLED BY PIRATES
ASK FOR YOURS SOON"
Added on

21-04-2012

Last updated on

22-04-2012