---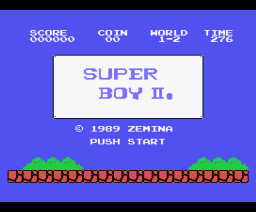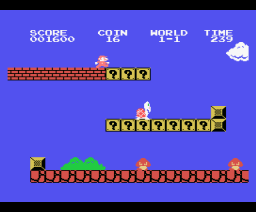 Original title

슈퍼보이 II

Title translations

Super Boy II (English)

Developed by

Year

1989

System
Rating

(

20 votes

)

Sound

PSG

Kind

Game

Max Players

1

Max Simultaneous

1

Input Devices Supported

Keyboard, Joystick

Genre

Platform


Licence

Commercial
Note

From: http://www.hardcoregaming101.net/korea/part1/company-zemina.htm

This game is to Super Boy I what the Japanese Super Mario Bros. 2 (Known in the west as The Lost Levels) is to the first game by Nintendo, or even less so, as the evil mushroom isn't implemented. Once again the game ends after stage 4, with no such thing as an ending.

Super Boy II is the first Zemina game that is confirmed to have received a Master System conversion. As both machines had a similar system architecture, MSX games could be easily converted to the Sega system. There was no actual porting work done, so the game is virtually identical on both platforms.
Added on

26-05-2006

Last updated on

21-03-2017